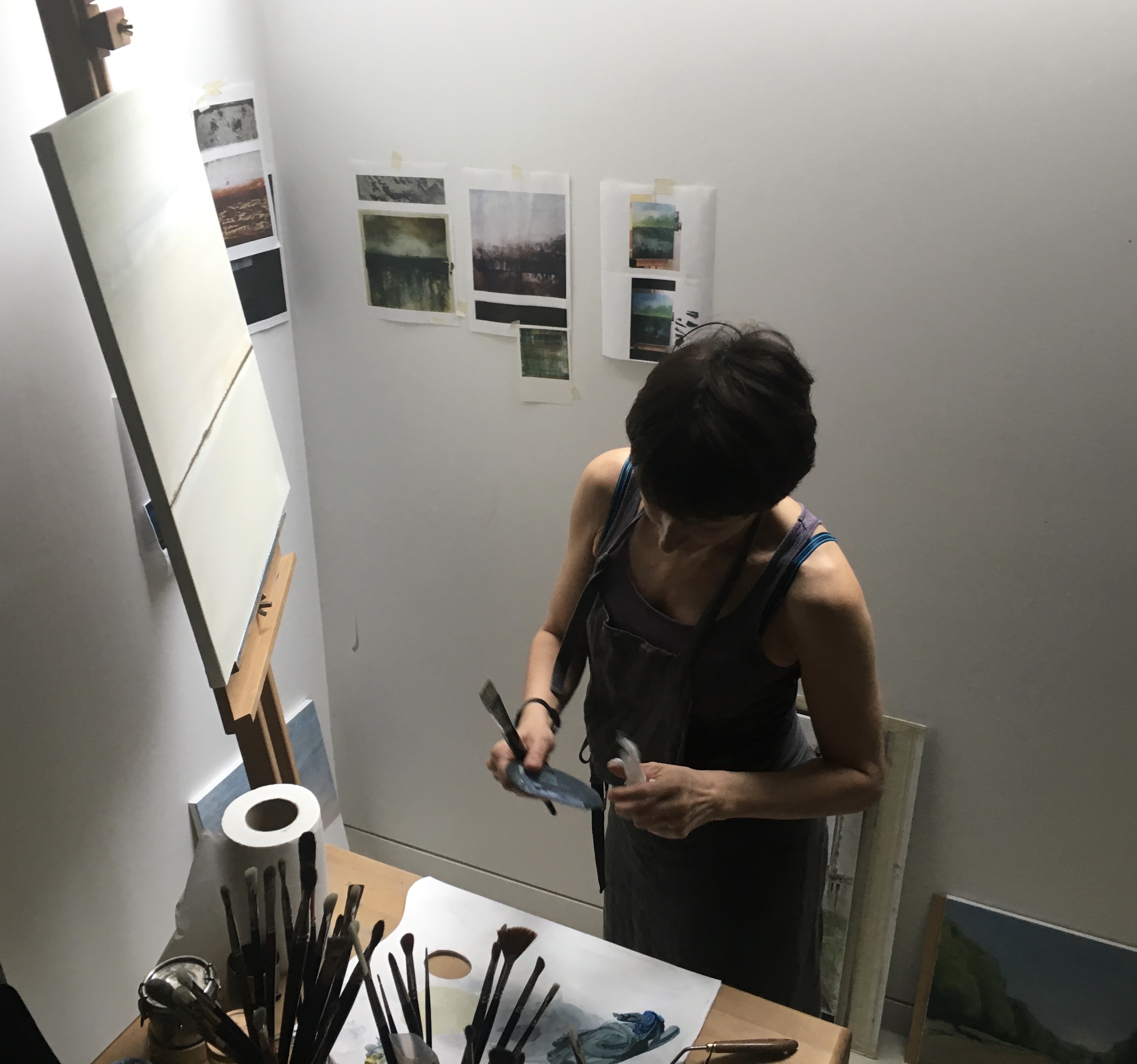 Bio

Lizzie Butler is an expressive and semi abstract artist, who works in a contemporary style in oil. A strong spatial awareness and a passion for working en plein air, leads to paintings that recreate the intangible atmosphere found in the landscape and the peaceful silence of nature. Most of her pieces are begun outside and completed in her London studio.

Although working primarily in oil, Lizzie also enjoys the physicality of exploring etching with zinc and steel plates, to create intaglio prints.

Lizzie's paintings can be found in collections in America, New Zealand, the UK and across Europe, with several customers returning to buy further paintings and place commissions. Lizzie has completed many large sky comissions. Should you have a favourite sky view of your own, that you would like as an artwork to hang in your home, please get in touch to discuss.



Exhibitions:
2023

AWAGAMI, International Print Exhibition
Etching included in group show
7 Oct 2023 - 12 Nov 2023
Tokushima, Japan


THE ART BUYER, 2023 Spring Show
Three oil paintings included
4 Mar 2023 - 31 May 2023
London, UK

2022

THE RUSSELL GALLERY, Mixed Summer Exhibition
Two oil landscapes included
30 Jun 2022 - 3 Sep 2022
London, UK

THE ART BUYER, 2022 Summer Show
Two paintings included
16 Jun 2022 - 17 Aug 2022
London, UK

2019

THE RUSSELL GALLERY, Mixed Summer Exhibition
Two oil landscape paintings included
27 Jun 2019 - 7 Sep 2019
London, UK

2018

THE RUSSELL GALLERY, Christmas Group Exhibition
Two oil landscape paintings included
29 Nov 2018 - 26 Jan 2019
London, UK

PSAD, Etchings Group Show
9 Nov 2018 - 3 Dec 2018
Three contemporary landscape etchings included
London, UK

2017

EGGISON DANIEL, Joint Show - Sky Series
Myself and Judy Watts exhibiting a series of oil paintings,
depicting British skies in a semi abstract style.
20 May 2017 - 21 Jul 2017
London, UK

PSAD, Etchings Group Show
Etchings included
13 Mar 2017 - 2 Apr 2017
London, UK

2015

LEIGHTON HOUSE MUSEUM, The Craft of Drawing and Painting
An exhibition of artists' work from the London Fine Art Studios. The public were able to view a broad body of work, from delicate sketches to life size paintings illustrating the artist's process. In doing so, they would better be able to understand the methods used by a long line of Masters.
1 Sep 2015 - 4 Oct 2015
London, UK